I wrote this in a blog for Myspace, but here it is for yous folks that don't have a Myspace or who don't read my gay ass blogs.
There's just something about looking at shitty, horrible tattoos on people that just lights up my insides. I feel giddy whenever I see a shitty tattoo on someone.
Shitty tattoos are like gay porn. I could look at them all day, every day, and never get tired of it.
I wrote a blog about shitty tattoos a month or 2 ago and I showcased some really bad tattoos. And I just had such a good time doing it that I'm gonna do it again.
So if you're feeling kinda down and if you're having a bad day today, get ready cause it's just about to get a little better.
So, let's look at my new collection of shitty tattoos.
Here's the first shitty tat:
No, your eyes aren't playing tricks on you. That really is a portrait of Melissa Joan Hart. Someone actually got a tattoo of that whore from Sabrina the Teenage Witch. That show was awful. As if kids needed another t.v. show that glorifies Satan and makes kids want to partake in witchcraft and sorcery. They already have Even Stevens, Pepper Ann, the news, Gullah Gullah Island, Eureka's Castle, and Sesame Street.
Next tat: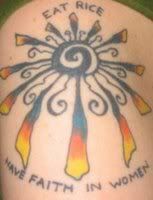 What the fuck does that even mean? "Eat rice have faith in women?" Something tells me that this tattoo is on the arm of some Japanese girl who doesn't speak a word of English. It was probably translated incorrectly. She probably thinks it says, "Please take me away from my rice farm and marry me strong American soldier."
Moving along: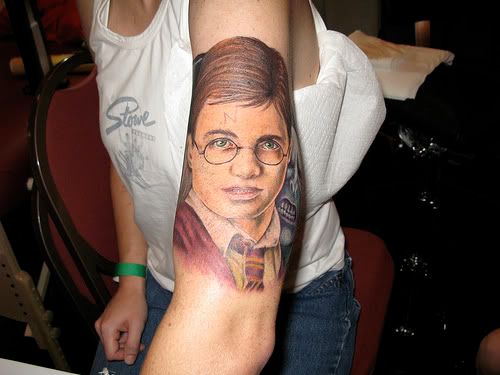 I never understood the whole fascination with Harry Potter. Why do people like those lame ass books so much? I just don't get it. And another thing I can never understand is how the world is so over-populated when so many people (like the queer with this tattoo) are virgins.
Onto the next: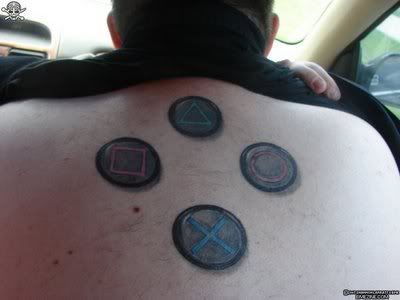 This tattoo has a purpose. There is a reason why this kid got this done. He probably spends a lot of lonely nights sucking his own dick and he probably just got tired of straining his neck and having to look at his pasty acne-covered back all the time.
Next tat: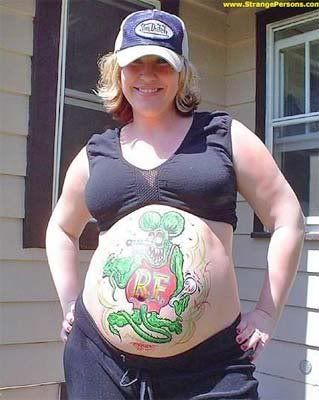 There are so many things wrong with this picture. I don't even know where to begin. Oh wait, yeah I do, this bitch is pregnant. That's probably the most disturbing thing about this photograph. Aside from her stretched out navy blue sports bra and pale flabby arms glowing in the mid day Sun, the fact that this whore is pregnant is the most upsetting thing about this picture. And that hat. Oh, God. Somebody help her. Someone probably told her that if she gets pregnant, her baby is gonna come out with the same trashy ass tattoo on its stomach as hers. And then she went, "Nuh uh! Are you serious? Let's find out!! Quick, dad! Get on top of me before Grandma get's back!"
Next:
Do you think that a lot of Japanese people have tattoos of mushroom clouds and atom bombs? Cause if they do, there is seriously something psychologically wrong with the vast majority of people. Like why get a tattoo of something that makes you remember something painful or sad? Does Jodi Sweetin have a tattoo of all the dwarves that raped her back in grade school?
Next tatty:
HAHAAA! Look at this fag!! Doesn't it just make you feel better about yourself? I mean, we all have regrets and shit in our past, but at least you know that you don't have some horrible solid black tattoo on your arm and hand of a skeleton. And look at it! It's not even anatomically correct! Where is the trapezium? And which one of those squiggly lines is the metacarpal bone? The ulna bone in this tattoo looks like a black strip of bacon. Just cause this guy isn't familiar with female anatomy, that doesn't mean he shouldn't be familiar with skeletal anatomy. Fucking idiot. Someone needs to tell this kid that tattoos are permanent. And that 1993 is over.
Next: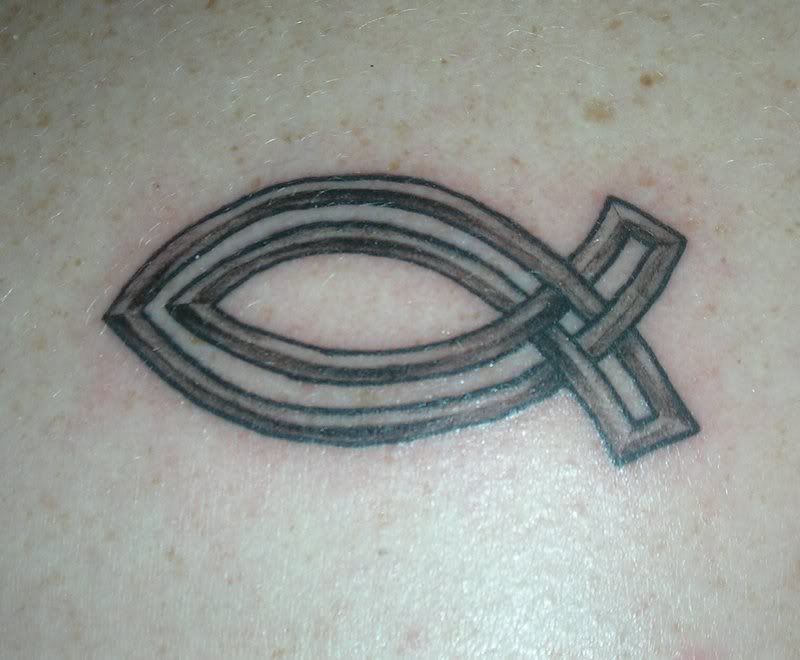 Sometimes I think that there must be a God because there is no scientific explanation as to why some people are still alive. You know? Surely, God must be keeping these freaks alive. Cause they should have been wiped out and destroyed long, long ago. And what the fuck, a Jesus fish? A Celtic Jesus fish? Come on, now. That's like a Jewish swastika.
Lastly:
I don't blame this guy for getting that tattoo. Really, I don't. He probably just got lucky one night and managed to have sex with an actual girl and he just wanted to get a tattoo of it to remind himself of the event, and that he likes girls, even though his soul patch would lead you to think otherwise.
Welp, that concludes our tour. I hope you enjoyed it. I know I did.
And you needn't worry because there will definitely be more shitty tattoo showcases in the future.
So be sure to join me next time.
Good night everybody!